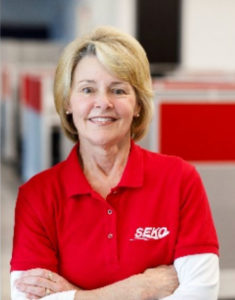 Jane (Pedersen) Sorensen
Jane Sorensen is Managing Director at SEKO Logistics, Chicago Gateway office, responsible for international, domestic, third party logistics and Customs brokerage services. Jane also serves as SEKO's Customs Brokerage Product Development leader, working closely with SEKO's corporate compliance and sales team to implement best practices for the product. Jane is a licensed Customs broker (LCB) and Certified Customs Specialist (CCS).
Prior to joining SEKO in 2020, Jane held positions such as Vice President of Brokerage Services at CEVA Logistics, leading 300 employees with 500,000 entries, General Manager for FedEx Trade Networks' Central Region and Regional Vice President for Fritz Companies (acquired by UPS-SCS). A native of the Midwest, Jane's business experience includes the ports of Dallas, Denver and Chicago and includes European and Asia Pacific business travel. Jane holds a Bachelor's degree in French from Western Illinois University, with minor studies in Spanish and post graduate studies in international business management.
Jane and SEKO are active members of the Chicago Customs Broker & Forwarders Association (CCBFA), as well as the National Customs Broker & Forwarders Association of America, Inc. (NCBFAA). Jane has volunteered for twelve years with CCBFA, currently serving Chairman of the Board and Customs Committee Chair. The Government Affairs Conference, one of two annual events sponsored by NCBFAA, is Jane's favorite. GAC provides attendees the opportunity to learn about timely, critical industry changes as well as meet with Senators, Congressional Representatives, their staff members, senior Customs and other regulatory bureau leaders, to explain the trade's position prior to voting on upcoming legislation.
Jane enjoys volunteering with CCBFA to help Chicago be "The Port that Works!" CCBFA's Golf Outing and Holiday Party have long been leaders in the industry and fundraisers for our scholarship committee, one of our most important endeavors to raise scholarship funds.
Jane regards her volunteer leadership role in CCBFA with so many top leaders in Chicago as one of her most cherished and enjoyable accomplishments. Watching everyone work together to support our events and fund-raising is a truly fulfilling career reward!